Maybe you've heard a great sailor talking about "changing gears". Did you fully understand what they were saying and how changing gears could improve your racing performance? Let's take a few moments to review what "changing gears" means in sailing.
The fundamental force that produces speed is wind flow over your sails to provide lift working in concert with a centerboard/leeboard/keel and rudder to drive the boat forward. If the wind and waves stayed constant, you could set your sail controls and just cruise at top speed, but the conditions are constantly changing. "Changing gears" relates to your role in adjusting controls to enable your sail to deliver optimum performance across these changing conditions. Often, you'll have to anticipate what's about to happen and adjust in preparation. As an example, watch Andy Burdick describe how he anticipates lulls and "shifts gears" ahead of time to power up at the 3 minute mark of our SailZing Race Course Notes from the ILYA Invite.
Sailing While "Changing Gears"
1st Gear
Light air conditions, low gear
Keep sail full (deeper) with draft back at 50%: No cunningham or vang, ease outhaul & mainsheet.
Flatter angle of attack = narrow pointing "sweetspot"
Have sail twist
Boom at traveler mid-line or slightly below. Very light air, boom out to corner.
Boom vang off, except lightly downwind as needed. Vang on will keep sail from being open.
Keep all telltales flowing (no curling behind sail)
Heel boat, but avoid sudden movements and weight shifting
Focus on speed versus point
2nd Gear
Moderate wind conditions, full power
Keep sail flatter with draft forward to 35-40%
Wider angle of attack = broader pointing "sweetspot"
No sail twist. Flat leech. Top batten straight back.
Boom at traveler mid-line or slightly above
Boom vang keeps boom down, but allows twist.
Top leech telltale hiding 50% of the time
Keep boat flat
Focus on speed AND pointing, gain windward
3rd Gear
Heavy wind conditions, over-powered
Keep sail flat with draft forward to 35-40%
Wider angle of attack = broader pointing "sweetspot"
Twist top of sail open
More outhaul upwind
Traveler & boom below mid-line as needed
Drive to telltales. Pinch up in puffs.
Mainsheet ease on puffs and then squeeze in to maintain constant heel angle
Focus on driving.

Twist
A closed leech generates more power. A twisted or open leech reduces power. The mainsheet is the primary controller of mainsail twist.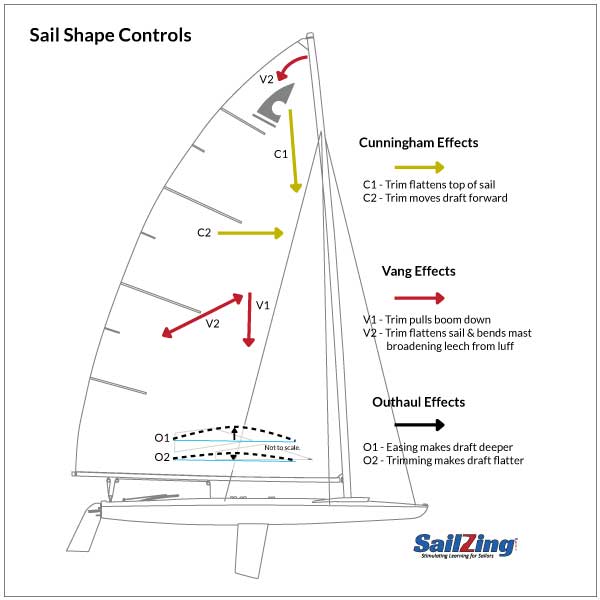 Effect of Sail Shape Controls
Mainsheet – Controls angle of attack and as sail approaches full trim, controls amount of twist.
Cunningham – Tightening luff moves draft forward and flattens draft at luff.
Boom Vang – Trimming in pulls boom down to avoid the boom rising as you ease  sheet. Trimming in harder also can bend the mast to broaden the leech to luff and flatten sail, reducing power.
Outhaul – A tighter outhaul flattens the bottom 3rd of the sail and opens lowest batten so it's not hooking to windward.
Draft Depth
Deeper sails generate more power. Flatter sail shapes generate less power (and less drag).
Related Content:
Light Air Boat Speed: Focus on Flow
Sailing Lulls Tips
X-Boat Tuning Guide – Go Fast In All Conditions
Sailors Helping Sailors
Will you share your knowledge with your related Comments below?