Are you a newer racing sailor? If so, sailing fast upwind may be one of the toughest things to learn. This post captures a virtual clinic with several newer sailors at the Lake Beulah Yacht Club.
We focused the clinic around live video of one newer sailor. After watching the sailor's upwind technique, we offered suggestions. We organized the discussion around eight key concepts for sailing fast upwind. These concepts were passed down from influential sailors that helped your editor become a faster sailor.
These concepts are not always easy to understand or put in practice. The text below summarizes them in outline form, but the video illuminates them more clearly through the discussion and questions.
Watch the video here or read the summary below.
Sailing Fast Upwind – Eight Time-Tested Phrases
Put pressure on the boat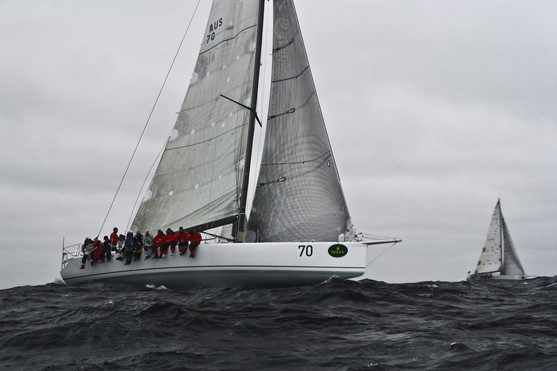 Why

Most of the sail's force is heeling force.
Forward force is limited by how much heeling force you can balance (pressure on the boat).

Things to work on

Trim hard

Use controls, not luffing, to depower. Make sure you're not steering higher to take pressure off.
You may have to luff the sails when your controls are on fully and you can't hold the boat down.

Hike!

Legs extended
Shoulders outside butt
Butt outside rail
Get a crew in heavy air
Trim to the leech, steer to the luff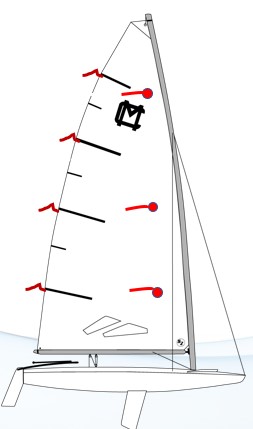 Why

You need to put curvature in the sail for power. Trimming the mainsheet tightens the leech and adds curvature.
Luff behavior indicates angle of attack – so steer to maintain the correct angle

Things to work on

Trim main in until:

Top batten parallel to boom
Leech tales active
Leech not "frozen"

Steer up or down until:

Luff is firm, no backwinding; mast is loaded
Leeward luff tales streaming
Windward luff tales streaming or periodically lifting
Sidestay tales pointing toward aft end of sail

Adjust constantly
Feather and ease, hike, and trim (in a puff)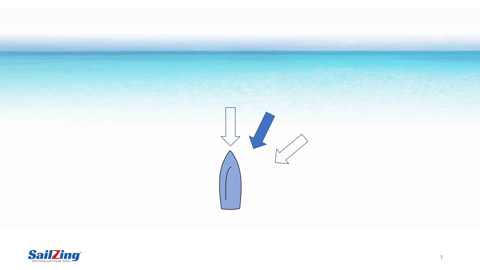 Why

Keep boat on its lines (ease)
Quickly match angle of attack to the change in apparent wind to accelerate (ease)
Gain ground to windward (feather slightly)
Re-power when puff is spent (trim)

Things to work on

Ease main as rapidly as needed and hike to maintain angle of heel
Feather: steer up slightly (3-5 degrees)
Trim back rapidly as soon as you can re-power
Feel the acceleration!
In a lull, do the opposite

Feather down/trim in, weight in, and then ease
Work the controls
Why

The sail is a like continuously variable transmission
Controls are designed to be loaded hard

Things to work on

As the breeze builds

Trim main harder
Approach block to block in heavy air

Tighten vang as you trim main

Fully slack to as hard as you can pull
Ease when wind lightens or before bearing off!

Tighten cunningham as you add vang
Drop traveler

Use after a healthy dose of vang and cunningham
May need to go all the way down
Trim main even harder (see "flat is fast")

Reverse order as breeze lightens
Angle of heel is everything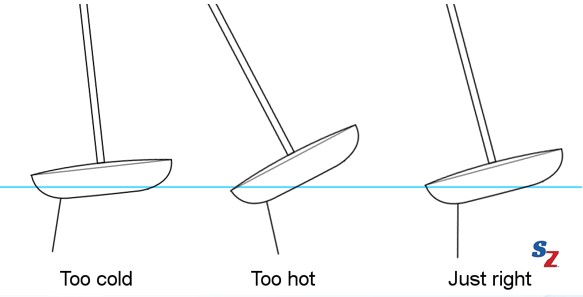 Why

Makes boards effective
Reduces wetted surface
Reduces helm
Makes boat "longer." (Longer boats are faster.)
Just as important downwind as upwind

Things to work on

Keep water below the rail (in a scow)
Learn to move your weight smoothly between positions

Full hike
Sit/stand in center of boat
Sit to leeward
Sit under boom
Hike to leeward
Flat (sail) is fast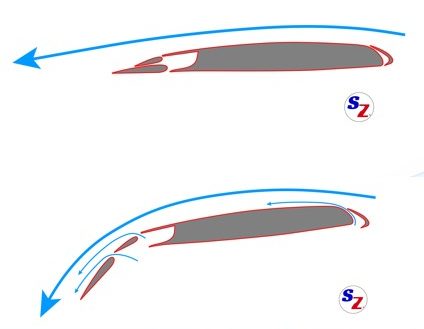 Why

Less drag, better pointing
In very light air, airflow can stay attached

Things to work on

Shifting gears

Once up to speed, tighten mainsheet to bend mast and flatten sail
Ease main when you need to re-accelerate

Overpowered

Resist temptation to let sail luff
Drop traveler and sheet even harder

Very light air

A flatter sail may be faster than a full sail
Dirty air makes you crazy
Why

It's everywhere, but invisible
Can't achieve speed, even with good technique
Makes you second-guess yourself

Things to work on

Don't hang back on the starting line
Find a lane after a bad start
Don't tack into a bad lane
Defend your air downwind
Get comfortable in the boat
Why

Minimize distractions to reduce mental overload
Reduce physical overload

Things to work on

Does everything in the boat work properly?
Mainsheet

Proper grip
Thickness and texture
5:1 purchase
Grippy gloves
Tangle prevention or interference

Tiller grip and control

Footwork routines
Comfortable hiking

Pads, core strength, position, straps
Don't over-hike

Distractions

Items rolling around
Tangled telltales
Water in boat
Sailing Fast Upwind – A Journey
Try to master these concepts. Practice with other boats and go to regattas to accelerate your progress.
As you progress, you'll find nuances and exceptions. When you're ready to go deeper, here are some related SailZing.com posts:
Puff Response: Variations on Ease, Hike, Trim
Heavy Air Boat Speed: Sheet Harder and Drop Traveler
Don't Be Lazy with Mainsheet Tension
Hike Harder and Smarter
MC-Scow Sailing Speed Guide Plus Drills