In this article, we will outline the first Downwind Leg for Beginners with lots of links for more information. If there's something else that want to understand, just type some keywords in the search box at the top of the page and we'll show you what else we have on the topic.
This article continues where Sailing the Race Course – Starting for Beginners and Sailing the Race Course – Windward Leg for Beginners left off.
This series of articles introduces the key concepts of sailing a race from preparation to the starting sequence, buoy roundings and finishing. The target audience for this information is sailors that may have never competed in a formal race environment or want to better understand what is going on during a race. The target could also include someone who spectates and wants to better comprehend what is happening. Throughout, we will link to more advanced information, but the body of the article will be the basics. We will not go into rules details, but will mention rule areas that pertain to various situations, for further study. If we missed a basic concept, feel free to comment below. There will be links to lots of articles for more information throughout.
Downwind Leg Diagram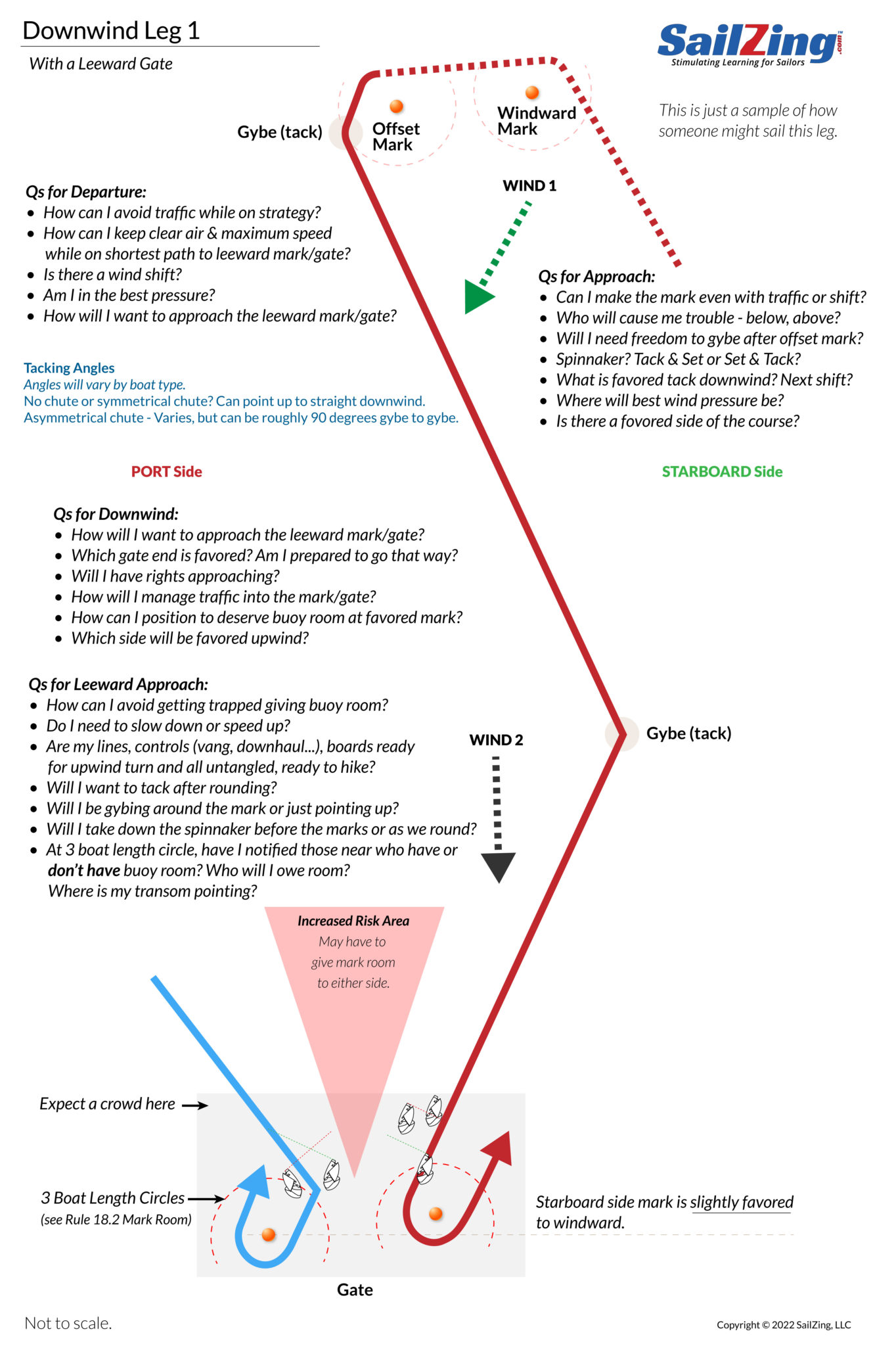 Downwind Leg 1
So, you're rounding the offset. You already know what you plan on doing next because you thought ahead before the windward marks. While executing your plan, make sure to keep clear air and sail fast while thinking about what your next gybe will be.
Questions for Leaving the Top Marks
How can I avoid traffic while on strategy?
How can I keep clear air & maximum speed while on shortest path to leeward mark/gate?
Is there a wind shift?
Am I in the best pressure?
How will I want to approach the leeward mark/gate?
Avoid boat to boat squabbles.
You want to focus on winning the race, not any one boat. Boat on boat tactics are most appropriate when you're positioning to get around the top marks or bottom marks and on the last leg. However, someone may have blocked your gybe
Avoid the "Train"
Often in big fleets, boats rounding the mark will end up in a line (The Train) as they all try to maintain clear air on one tack. The problem is that this creates a battle to the outer edge of the course as each skipper tries to get clear air around the boat behind them. The result is a long line of boats on one tack – The Train. This situation makes it hard to get clear air, can limit your flexibility to tack out and can put you on a longer course to the bottom marks. If you expect the train to form, you might tactically decide to tack away early and then get on your own line. If you don't tack out soon enough, you may have lost speed and will have to cross under the back end of the train's wind shadow.
Tacking – Gybes
Going Downwind ("Running") has similarities with Windward Legs. You want clear, strong breeze and to be able to sail your own race while staying on the tacks that lead most quickly to the bottom marks. Remember that:
The shortest distance between two points is a straight line.
If you can sail a straight line from the top marks to the bottom marks at top speed, then that's probably the best thing. If you're flying an asymmetrical chute, then you'll undoubtedly be sailing bigger angles and gybing, but when you have the speed, drive down to aim closer to a line to the bottom mark. One thing to keep in mind, is that a Reach is generally faster than straight downwind. So, if can end the leg on a reach to the mark, then you may beat some boats to the mark.
Sail fast. Always keep your boat optimized and stay focused.
Stay on the favored tack as long as possible and in the best wind pressure (breeze)
Sail toward the favored side which might include

Best wind pressure
Less traffic
Better approach for the bottom marks
Gybing costs most boats some distance, so don't gybe unnecessarily. Why would you gybe?
The other tack aims better at the bottom mark (in good pressure, clear air, minimal traffic…).
You want to get into a line of better breeze.
You're positioning to be able to gain buoy room at the mark.
Sometimes, especially after a hard upwind leg, some teams can treat the downwind leg as a rest time. Catch some rest when you can, but big gains can be made downwind. If you're more alert than the next boat, you may really make some gains.
Bottom of the Leg
Before you reach the bottom third of the leg, you need to have a plan for the bottom marks that you've communicated with your crew. Your focus now is on how to round the marks on the favored upwind tack in the fastest, cleanest way given that there will be other boats wanting the same thing.
Questions for Downwind
How will I want to approach the leeward mark/gate?
Which gate end is favored? Am I prepared to go that way?
Will I have rights approaching?
How will I manage traffic into the mark/gate?
How can I position to deserve mark room at favored mark?
Which side will be favored upwind?
At this point, you should have time to position your boat to fight for inside position at the mark with an overlap at the zone to ask for buoy room. Can't get the overlap? You should have a plan B. You might slow down by zig-zagging, luffing your sails or prematurely dropping your chute. It's a good idea to practice these things before the race.
Olympians Stephanie Roble and Maggie Shea have some advice for downwind sailing that you should watch.
Questions for the Leeward Approach
How can I avoid getting trapped giving buoy room?
Do I need to slow down or speed up?
Are my lines, controls (vang, downhaul…), boards ready for upwind turn and all untangled, ready to hike?
Will I want to tack after rounding?
Will I be gybing around the mark or just pointing up?
Will I take down the spinnaker before the marks or as we round?
At 3 boat length circle, have I notified those near who have or don't have buoy room? Who will I owe room? Where is my transom pointing?
Mark Room
Mark Room can be a complex topic, so spend some time reviewing these articles for a better understanding. John Porter, a certified race professional, suggests that you notify any boats early that you think they will need to give you mark room, even a bit before the zone, so that they aren't surprised. A side benefit of this is that the other crews will have a chance to see what you see as you enter the zone. Your mark room rights are triggered as your hull hits the zone circle, so that's when they need to assess your case. If you wait until you're in the crunch at the mark, they may remember entering the zone differently.
18.2 (b) If boats are overlapped when the first of them reaches the zone, the outside boat at that moment shall thereafter give the inside boat mark-room. If a boat is clear ahead when she reaches the zone, the boat clear astern at that moment shall thereafter give her mark-room.

Racing Rules of Sailing 2021-2024
Rule 18.2 Key Points
This rule applies at both the windward and leeward marks. We'll cover windward mark situations when we cover Rule 18.3.
If Rule 18 applies, then either Rule 18.2(a) or Rule 18.2(b) will apply. The most common situations involve Rule 18.2(b).
The key to understanding Rule 18.2(b) is to think of a "snapshot" when the first boat enters the zone. If the first boat enters the zone clear ahead, she need not give mark room to boats that are clear astern.
When a boat claims she obtained or broke an overlap in time, the claim must be well-supported. If there is reasonable doubt, the claim will not be accepted.
Rule 18 "turns off" when mark-room has been given. This means satisfying all the required portions of the mark-room definition.
Remember, if you are getting mark room, you need to sail a proper course around the mark.
Related Content
Downwind Tactics for Youth with Roble / Shea Sailing – SailZing
Downwind Strategy Checklist – SailZing
Downwind Strategy Mistakes: Four Ways to Get Passed – SailZing
Downwind Strategy Mistakes Part 2: More Ways to Get Passed …
Play the Shifts Downwind – Check Your Understanding – SailZing